Jeffrey (KG0VL) and I (K9MU) will depart St. Paul, MN at 11:30am on January 1st. We will arrive at Emerson, Manitoba for entrance inspection around 6:00pm CDT and spend the night in Winnipeg. We will depart the next morning at around 8:00am and reach Grand Rapids (EO04) around 3:00pm. After a 12-hour journey we will finally arrive in Thompson (55 degrees, thirty minutes North, EO15!). For now on our homes will be our trucks. We will wake around 9:00am and begin to look for a good radio locale in EO16! A day will be spent assembling and tuning antennas at that specific locale. As I go QRV from EO16 Jeffrey will travel on towards Gillam, Mb (EO26). He will be QRV from EO26 on January 4th with a similar station.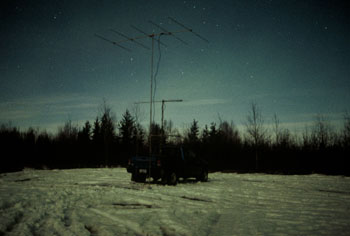 While mobile, I will be QRV on 6M (halo and 100w), 2M (pair of 2M7 s and 100w). When at the EO16 site, the 50 Mhz 5 element yagi and G5RV will be utilized. Jeff will have similar operating conditions, except he will have a pair of 2M9 s on 2M along with 400w on both 50 and 144 Mhz!

These are not exact locations.